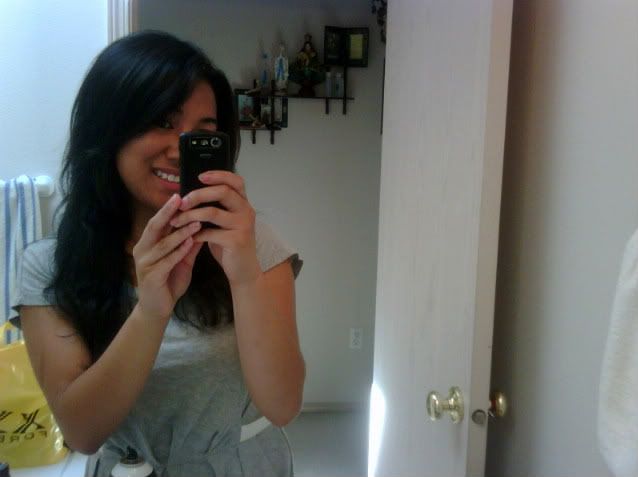 what's good on a sunday afternoon? "we were chillin' in the park, waiting for the sun to go down..." c'mon sing along now (if u know it hehe) last night or should i say early this morning my sister & i were singing karaoke off of youtube! hahah like "best i ever had" "knocks you down" "blame it" hahahaha
Saturday- got an oil change and new plastic covers for the floor of my car... brought the BGF some Wendy's, went to the mall and bought a cute wallet/wristlet! (i blame watching confessions of a shopaholic 2 times for me wanting to shop), went to the PX, church, & Farreli's! then washed my car cuz a clean car makes for a happier melissa :)
what's not good... bug bites on my feet and...
the overwhelming ocean of emotions that tookover me for a good hour yesterday (or should i say a bad hour?). ups & downs.... emo i know but i'm over it now! i haven't felt that way in a while, it sucked, almost depressing, i felt so lost and negative... i wanted to find a solution or answer to every little thing i was thinking. i just wanted to press redo or refresh. i wish there was a "what if" window. a window that i could look through and see what would happened if I had done this, how things would've played out and how things could be different. but that's something you'll just never know.
and then it flipped and I started to think of the good times and the people in my life now. and also what changes i'd like to make. but here was my last thought to everything that emotionally challenged me yesterday is:
LIVE WITH NO REGRETS BECAUSE YOU KNOW AT THAT MOMENT, IT WAS EXACTLY WHAT YOU WANTED TO DO. LIVE FOR THE MOMENT!
today is sunday and hopefully i get to see Elaine.. she's in town for the weekend!
_melissa
16 more days 16 more days til Italy and one week til my daddy comes home!